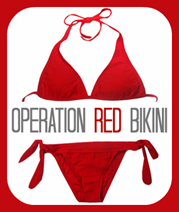 Sweet
Kassie
started this #operationredbikini phenomenon and I'm totes on board!
(click on the link attached to "Kassie" to get all the deets

!)
I have decided that homegirl here does not need to rock a bikini.
See... my tummy tum-tum has and always will be flabby.
No matter what weight I've been, my stomach has NEVER been even remotely flat.
I've worn a bikini when I good and well knew that I shouldn't.
And, I've never found a tankini that I love...
So, this summer, I've decided I want to look damn good in a sexy one-piece bathing suit.
Darci
shared a post about her bathing suits she's
going to
to rock this summer so I politely
stalked
asked her where she found her gems.
Asos.com.....so I went there right away and created a list of my faves:

Which one do you like the best?
Homegirl needs some help!