Let's pretend that, just for today, I am a fashion blogger!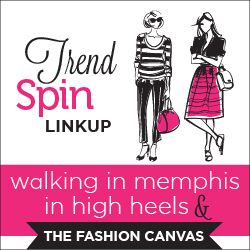 When
Laura
announced that she and
The Fashion Canvas
were hosting a fashion link up starting with the color Mint, I knew I was in love!
Mint is 100% without a doubt my favorite color for 2013!!
Perhaps some of you remember my obsession with some
mint skinny jeans
to rock on my 30th birthday!
Or how I ordered this bathing suit for the summer.
Or um, hello blog design color?!?!
Obsessed!
So, with a wedding to go to this past Saturday, it was a no-brainer that I was on the search for a mint dress!
I searched and searched and time went on.
I fell in love with this dress from Kiki Larue
(or just about any other online boutique)
But I didn't find it till it was too late and couldn't really drop the dough to get it!
So, a week before the wedding, we made the the 45 minute trip to hit up a few respectable stores in order to scour my mint options.
I found a mint and lace dress at my first stop...Marshall's.
And, because I'm NOT a fashion blogger, I never thought to take a full length, 360 degree look of me in the dress!
(Teach me your ways, Laura!)
So, here are the best shots I've got of me in the dress!
Oh, and because I was bored in the car waiting for my husband to pump gas, I took these shots!
My favorite part about the dress
that I have no picture of
was the upper back part of the dress was just the sheer lace...no lining!
Scandalous!
So, since I found my dress, it was now time to find clothes for my 2 men so we could all coordinate! :)
Turns out, we already had a PERFECT plaid shirt for Royce with the same color as my dress so
we just picked out a blue shirt for my husband to match one of the other colors in Royce's shirt.
Royce's shirt that we changed him into so he could get his dance on was even mint!
Clearly, he is the real star of the mint show!
And, just for funsies, here are 2 other Mint articles of clothing that I own:
Ahh, yes! There are those mint skinny jeans!!
I'm a big fan of jeans and white T's.
Especially when the jeans are mint colored jeans!
And mint ballet flats?!?!
I mean, come on!!
In the words of Rachel Zoe...
"I die"
...for Mint!