Allow me first to tell you how behind I am on reading blogs!!
I have a 5 hour car ride this evening (
PA bound, bay-bay!!
) so I'm hoping to catch up!!
I've missed my daily correspondence with y'all!!
Ok, now that that's off my chest!
Without further adieu...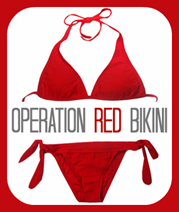 It's crazy that this day is here!
I remember reading all about Operation Red Bikini (ORB) back in December and thinking,
"Gosh, Memorial Day weekend is so far away, sure, I'll join the challenge!"
I remember taking forever to leave my comment saying "I'm in!" cos I didn't know what I wanted my end ORB result to be.
I went back to
Kassie's post
explaining the details and found my comment stating my solidarity!
The bikini was still a questionable decision even as I hit "publish" on that comment.
Along the journey, I decided that I have always had and probably always will have a pouch as my lower stomach, so Mama wanted to go for a sexyfied one piece.
Well, I ordered this one, but it's still on back order so I have yet to receive it!
But, since we were going to the Lake last weekend, I needed a swim suit.
So guess who scrounged through her old bathing suits only to end up rocking a bikini top and board shorts?!?
While I don't feel I looked terrible, I think I would still feel comfortable in my one piece if it ever decides to arrive!
Now....the size 6s I mentioned...I knew exactly what pair I was talking about!
But, before we see if I actually fit into them...
Let's discuss my ORB journey over these past 5 months.
My weight loss plan of action has basically been running and cleaning up my eating.
I was training for
my half
starting in December until completed in March.
Holidays and events were all sprinkled in during these 5 months so, while the running was non-negotiable, my food choices were not always...
I did really well when I stayed on track
(basically through the week)
and I did really bad when I went off track
(hello, weekend!)
with eating.
So I have to say thank God that I actually still ran.
That's what kept me from not gaining anything over a few pounds.
But horrible eating sometimes kept me from losing any.
As weight loss can sometimes go, I gained, I plateaued and I lost but I never (and still haven't) gave up!
It wasn't until about April that I was starting to get
envious
curious of the muscle definition I was seeing in some people that I started throwing in some free weights.
And then, come May, my super supportive Team KLM helped me buckle down through the
May Meltdown with Ms. Michaels challenge
!
I am beyond pleased to announce that I did the 30 Day Shred every single day for 30 days straight!!
I also stuck to my running schedule where I was concentrating on speed training this month.
Gold star every day!! Hollerrrrr!
And I promised B&A's so I am here to deliver!
My #4MChallenge Before stats:
Weight: 149 lbs
Arms: 12 1/2"
Chest: 35"
Waist: 34 1/2"
Hips: 37"
Thighs: 22 1/2"
And After:
Weight: 145 lbs
Arms: 12"
Chest: 34"
Waist: 33 1/2"
Hips: 36"
Thighs: 22"

That's a 4 pound loss and 4 inches lost overall!!!
And now time for a little side by side action...
And then, just for funsies...
I'm pretty pleased with my results, I have to say. :)
The #4MChallenge was a success.
And THANK YOU for all the encouragement along the way!
I cannot express it enough!
It seriously meant the world to me!!
Curiosity getting to ya about the size 6's?!?!
probably not!

December 18th was when Kassie posted the deets about Operation Red Bikini.
I went back to find a pic of me from around that time as well as my
"Thick Thursday"
weigh-in from around then.
December 20th. Weight: 165 lbs
And today, May 31. Weight: 145 lbs
and rocking some size 6 jeans!
These are 2 different pair of size 6's even though they look identical!!
Man, seeing these results makes me even more amped and motivated.
And encouraged!!
I look at the pics when I was 20 pounds heavier and it takes me back to thinking about how far away the 140's were.
And now I'm here!!
I don't know how many people have commented on my weight loss to this point.
Telling me, "Oh man, I need to lose weight"
And asking how I've done it.
I can see it in their eyes that they'd like those results.
They'd like to lose weight.
But I can also see that the dedication and motivation isn't entirely there.
I can see that doubt is there.
I am a firm believer that the
WANT
to lose weight has to light a fire in your ass that shines through your eyes.
You have to
WANT
to take this journey.
It just won't work until it is a true motivated
desire
!
And I can't light that fire for you.
What I can do is show you my results.
That the proof is in the pudding!
Mmmm...did she say pudding?!?!
And maybe that can help to
ignite
that fire in YOU!
But it's gotta come from you.
From within you.
And it's not always going to be easy...
Motivation.
Hard Work.
Failures.
Triumphs.
Weight Loss.
Plateuas.
Dedication.
But it will always be worth it!!
I am truly here to say you CAN do it.
And I know people say, "If I can do it, you can do it."
But that's the honest-to-God truth.
I didn't just snap my fingers and 45 pounds came off.
I
WORKED
for it!
And YOU CAN too!
I'm still a work in progress.
I'd like to lose 5-10 pounds more.
I'd like to not gain the weight back.
Maintenance scares me a little.
But then I remember that I don't just get to a goal weight and then stop all this work.
I continue to put in the work. Put in the effort. And get those results.
Again,
THANK YOU
does not even justify how grateful I am to all of you that have been along my journey with me.
Your encouraging words and tips and solidarity have truly helped spur me on.
Stronger.
Faster.
Farther.
My mantra!
Elle
and
Kassie
....thanks for ORB and all the accountability along this journey!!
I think I can speak for everyone when I say we enjoyed it!!
Now all of you go out there and have a fabulous weekend!!
And Pennsylvania...I'm coming for ya, baby!!